When Titus Bentley was about to become the head brewer at North Jetty Brewing in Seaview, there were some sleepless moments. Would he measure up? Could he handle the responsibility?
It was April 2022, about three years after moving to Astoria from Colorado. The job offer was pure happenstance – coming shortly after striking up a conversation with a stranger who turned out to be the mother of North Jetty's co-founder. They talked about beer. She was impressed by his passion.
Bentley, 39, has since proven himself to be a standout among his North Coast peers. He's put his stamp on the tap list, notched an eyebrow-raising 10 collaborations with other breweries and tackled North Jetty's first complex, barrel-aged beers. An avid bicyclist, he lives in Astoria with his wife Kelli and their son Tucker.
We sat down with Bentley recently to discuss all that and more.
Q: What got you interested in brewing?
A: Actually, I stumbled upon brewing really. I was working in sales for this giant corporation, and they were restructuring and told me I could stay but for a significant pay cut. I hated my job, so doing it for less money seemed like a bad idea. I knew the head brewer at Horse & Dragon [Brewing Co. in Fort Collins, Colo.] and she was doing it by herself at the time and needed help. … So, she was looking for an assistant brewer. I was looking for a new career.
My intention was to learn beer to sell beer, but then I got to making beer and I thought, I don't want to do sales ever again. This is awesome.
I get to work with my hands, problem-solving every day. It's never boring. Every day is different and you get to be creative in a way that people enjoy. So, it's just perfect.
Q: Had you done any home brewing?
A: I took the route of always hanging out at breweries. Every vacation was at breweries, every time off was at breweries. Every meeting with someone was at breweries. That was life in Fort Collins.
Q: After moving to Astoria, you worked a couple of years for Buoy Beer, then went on to Fort George Brewery. That's where you were working when you got the offer to run the brewhouse at North Jetty. You must have been stoked to get that opportunity.
A: I was really excited when I got the offer. But then, trying to fall asleep at night, you start thinking, Oh man, what am I going to do?
I've never done all the ordering and I've never written that many recipes. I did maybe three or four at Buoy, one at Fort George. … I was panicking. I was thinking, How am I going to do this?
I knew I had to step up. I came here, brewed their recipes to start and took advantage of every opportunity I got. I would write a recipe, make it, learn from my mistakes, change what I wanted to change and apply it to the next one. And now I've done that enough times that I know what a beer is going to be like pretty much on the first try. So that's pretty fun.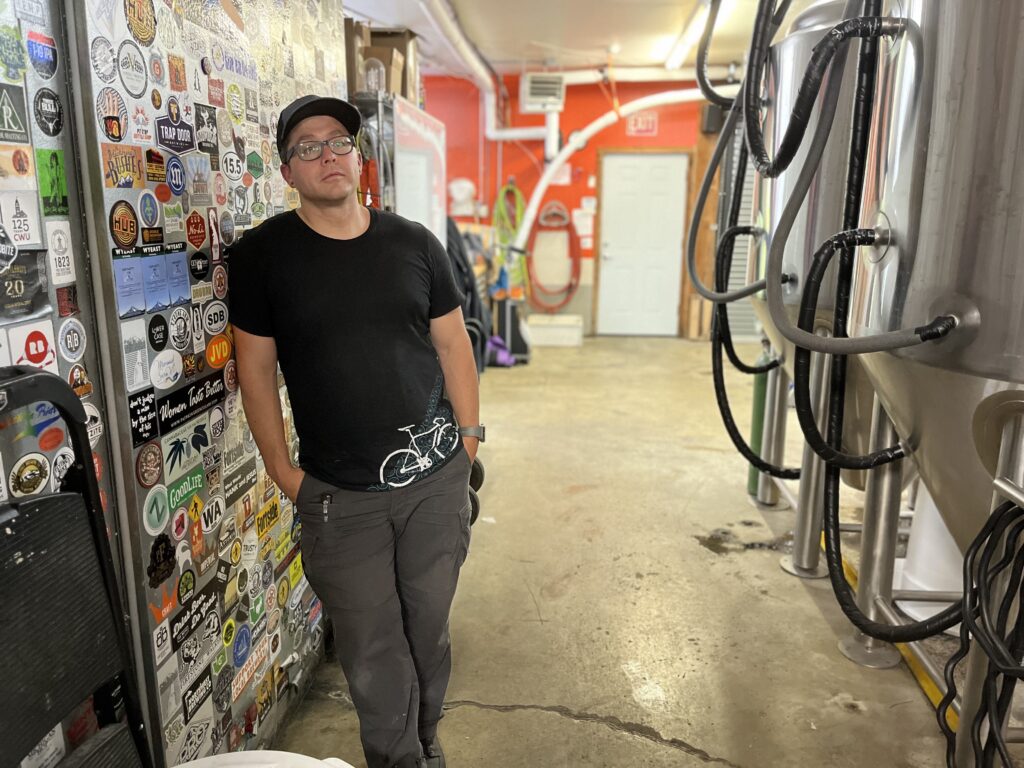 Q: You began running a brewery in your 30s. Was it a bit surreal to achieve that level of success so soon?
A: It doesn't feel quick to me. I've put in a lot of hours and I've made a lot of mistakes, so it doesn't feel so instantaneous. I think I'm in the middle of year eight now. But every once in a while I come to work and do my thing and then go over to the taproom and think, Yeah, I've done all that. That's cool.
Q: The owners, Erik and Michelle Svendsen, seemed excited to hire you. When it comes to making beer, what level of freedom do you have?
A: When I started, I hadn't done that many beers released to the public. So, they didn't know what they were getting. They were pretty much rolling the dice. I mean, I could have been horrible at my job. … I wanted to do weird stuff right out of the gate, and they weren't doing weird stuff, so they were kind of hesitant. They told me to 'be careful.' Now, when I write a recipe, they're like, 'Okay. We trust you.'
Q: Before you arrived, a second 20-barrel fermenter was added, increasing capacity by some 30 percent. Are there are further plans to expand?
A: There are zero expansion plans in the short term. Do I want to expand? Of course. Do Erik and Michelle want to expand? No. [Laughs].
In the summer, it's hard to keep up. We just go through beer so fast. But in the winter, there's plenty of time for [long-fermenting] lagers. But I'd just like more space. More barrel space. Space for a canning line would be pretty cool.
Q: North Jetty is more open to collaborations on your watch. You're even planning a special barrel-aged release with Astoria's Brut Wine Bar. Why is that creative process important to you?
A: I like sticking my head in the kitchen and seeing how things are made. I can see how other people do stuff and learn. I think that's the best part. There's always something to learn, even if it's what not to do.
I also like to do them because no one wants to get together and make a boring beer. No one's like, 'Hey, make a middle-of-the-road IPA lately? Because I'd really like to do that.' They're like, 'What can we make? What weird thing can we come up with that's going to be really good?'
Q: If there's one beer that you made in the past year that really captured what you're all about, what would it be?
A: [Pause] I think Ship in a Barrel – that first barrel-aged stout we did. I was so happy when we tried the barrels. It was just everything I wanted it to be.
I've never really made a beer and been impressed with it – I mean overly impressed with it. I've never made one and thought, Damn, I like that. And that was that one.
I really liked how the flavors all came together with the [whiskey] barrel. I was really happy with the way that turned out.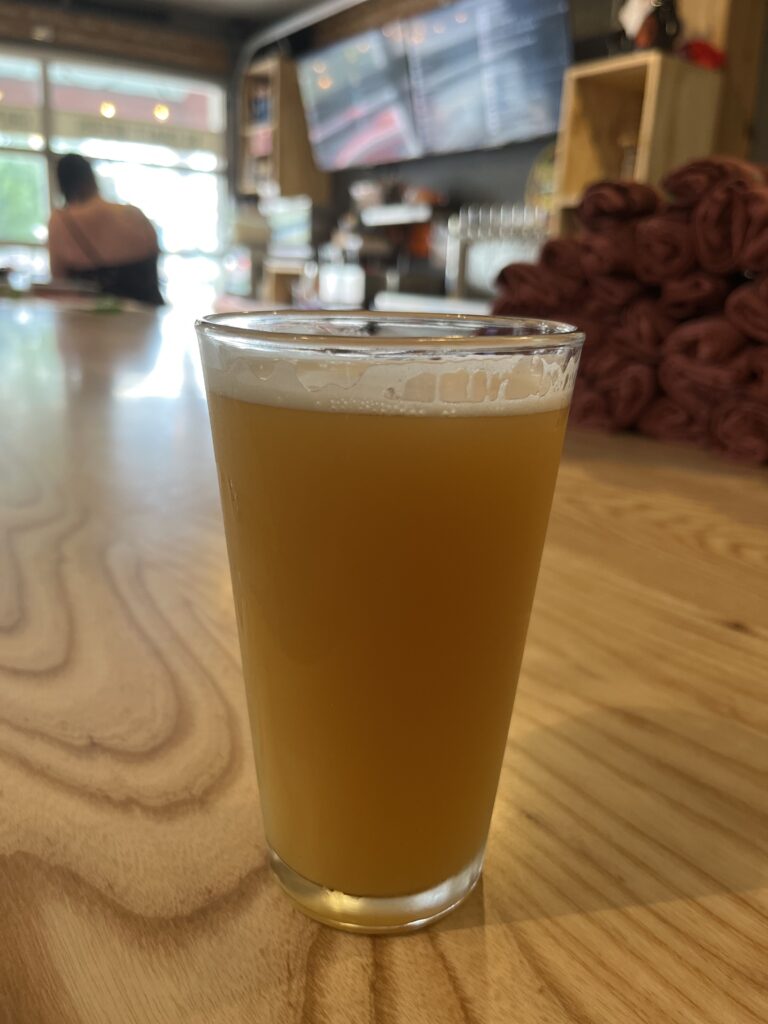 Q: The taproom seems to be hosting more live music and fun events, from bingo and trivia to a chili cookoff.
A: Yeah, thanks to Trisha, the taproom manager. … We try to stay busy, especially in the winter. When the sun's out and super nice, we mostly get tourists. But in the winter, when it's rainy and terrible out, the locals want something to do. So, we try to give them something to do.
Q: What are your personal goals at North Jetty?
A: I want to win a medal at some point. And I just want to make everyday beers that are medal worthy. I don't want to make special beers to win medals. I want the beers we make every day to be great.
Q: Can the Long Beach Peninsula support another craft brewery?
A: I don't know if there's room for one more brewery on the peninsula right now, just judging by our taproom. It's not like overflowing constantly.
But if locals start waiting in line here – if that's the case – then someone probably should open a brewery.