Buoy Beer Co. is back to brewing all of its beer in Astoria. The gleaming lagering tanks are filled once again.
Credit an extensive remodel of a century-old former sardine cannery for creating the sorely needed space.
The work was put into overdrive following the partial collapse of Buoy's beloved waterfront building one year ago. Inside was a brewery, canning line, taproom and restaurant.
Construction in the old cannery across from the main brewing facility took about seven months, including pouring thick new concrete floors capable of taking the weight of massive tanks. Two-story, 120-barrel bright beer tanks had to be dropped by crane through a hole (now a skylight) in the roof.
Also needed was a new "beer bridge" running from the neighboring brewhouse to the remodeled structure – and a whole lot of creative welding to shift product lines east instead of north, according to Buoy Operations Manager Jonathan Gostnell.
"It was artistry," he says of the rerouting. "The welders we hired did such an amazing job with all these pipes. … It was crazy. Look at all those twists and turns."
The steel bridge actually carries a lot more than beer ready for canning.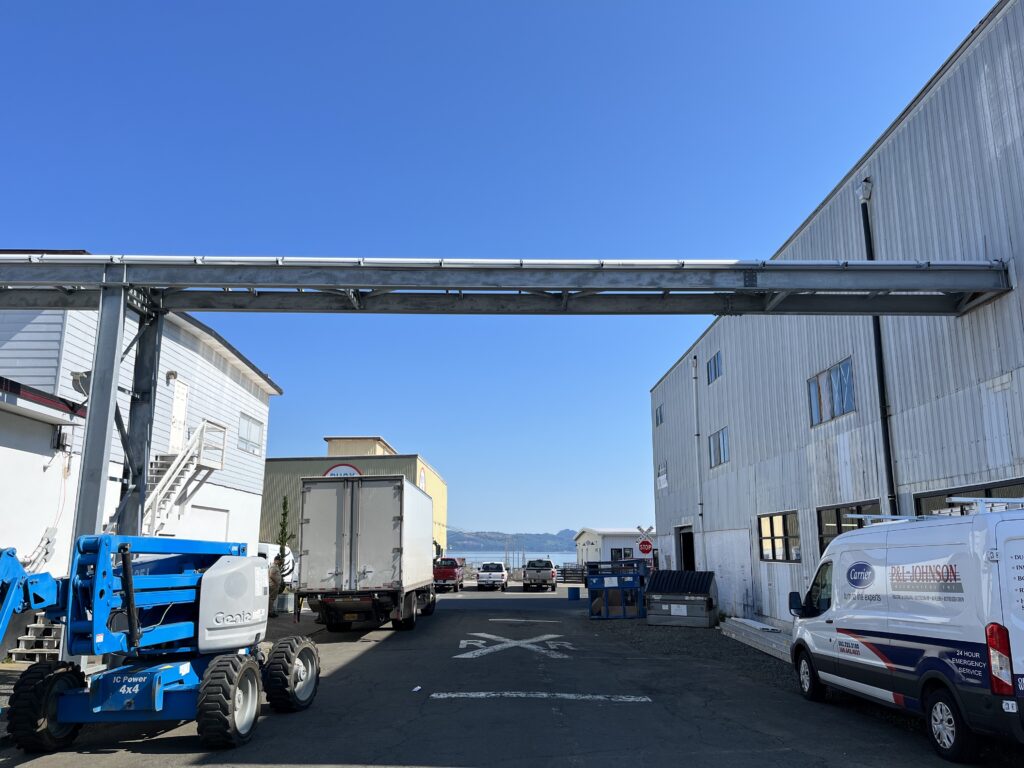 Flowing in the pipes high above 8th Street are also unaged lagers, single malt from sister company Pilot House Distilling, wastewater, compressed air and CO2, Gostnell says.
For the first time, Buoy's high-speed canning line won't be shoehorned into a tight space. There's plenty of elbow room in the refurbished building, as evidenced by the half-dozen workers seamlessly filling and packaging cans of IPA during a recent visit.
Jessyka Dart-Mclean, Buoy's marketing director, said the canning line survived the collapse unscathed. It just took nine months to get a permit to enter the waterfront building and remove it. Then it took several months more for construction at the new location to be done.
For the first time, beer production and packaging will share space with Pilot House, with a huge still newly set in place a short distance from the canning line.
"This wasn't the original plan," Dart-Mclean says. "This is the plan that came out of the collapse, but it actually is really efficient."
In the past year, Buoy had to do another major pivot caused by lack of space – contracting out a chunk of beer production to Ninkasi Brewing in Eugene and Sin Marca Beverages in Portland. Buoy brewers traveled often to those breweries to ensure quality, Dart-Mclean says.
Buoy was able to stop brewing beer off-site about three weeks ago, triggering a collective sigh of relief.
Six 100-barrel lagering tanks are now filled with Czech-style Pilsner, Helles Lager and other favorites, aging to perfection.
"That's what makes Buoy what it is," Gostnell says, admiring the horizontally stacked tanks. "We're really known for our lagers."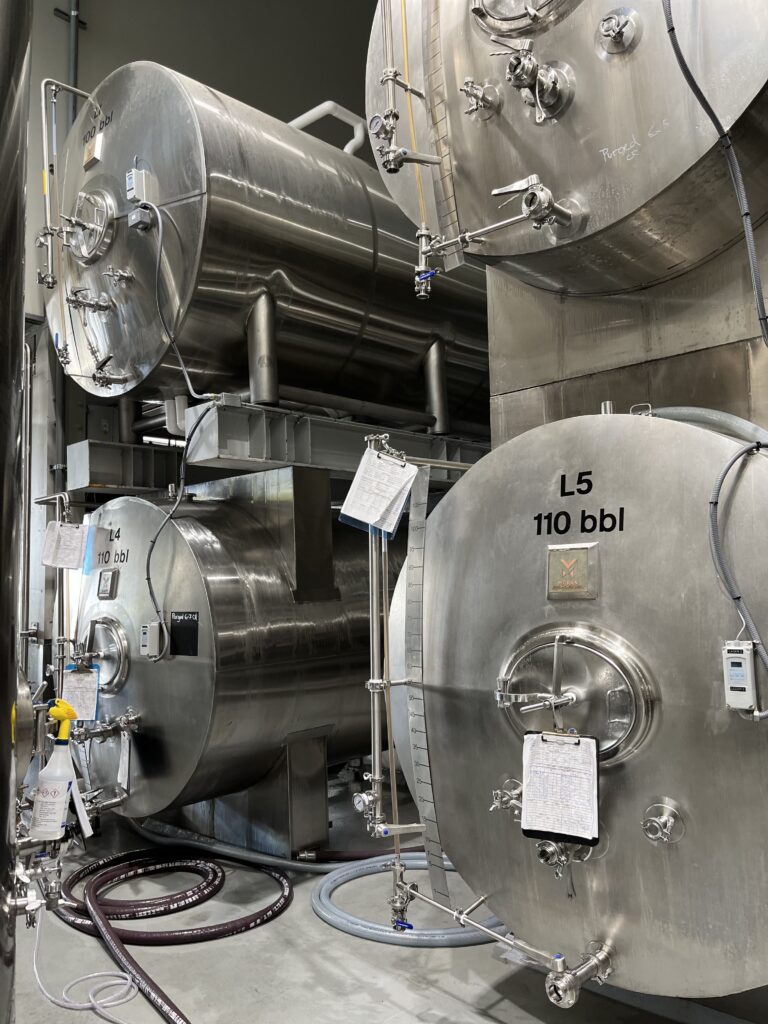 The remodeled building will be shared by Pilot House as part of the distillery's planned major expansion, including an upstairs tasting room.
Gostnell says the new still holds 1,200 gallons – roughly a tenfold increase from the distillery's current capacity. "Two full whiskey barrels per run," he says proudly.
As for the fate of the cordoned-off waterfront building, Buoy is awaiting a permit from the U.S. Army Corps of Engineers that would allow for preliminary work to determine the feasibility of rebuilding.
The hope is that the restaurant and taproom can reopen in the future, once again offering dazzling Columbia River views and glimpses of whiskered sea lions.
"That building is our heart and soul," Dart-Mclean says.