Cold beer and hot, sunny days. The God of Hops certainly blessed Buoy Beer Co.'s Lager Fest in Astoria.
   Or maybe just made up for last year's outdoor festival, when it rained and was unseasonably cold. 
   Whatever. The big takeaway here is heat plus sun equals thirst divided by beer. 
   Or as Brenda of Warrenton put it as she sipped a lager in her Adirondack chair: "I only drink beer when it's hot. It's hot."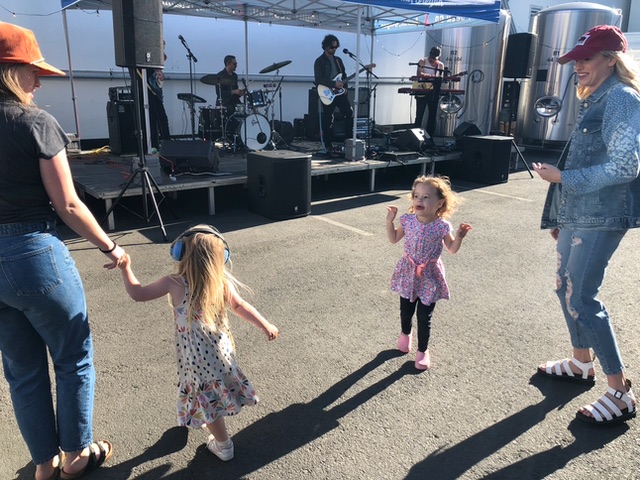 Hundreds of beer fans flocked to Buoy's waterfront digs at the end of Seventh Street on May 12-13, creating a festive party atmosphere from the get-go. Live music helped fuel the vibe, prompting youngsters (and their moms) to dance by the stage. 
   But the star of the show, of course, was the beer. Specifically, lagers –19 of them, created by 15 craft breweries from throughout the Pacific Northwest.
   North Coast breweries were well-represented, with Buoy, Fort George Brewery, Reach Break Brewing, Obelisk Beer, Astoria Brewing, Sisu Brewing and North Jetty Brewing contributing tasty brews. 
   Also participating were Mirage Beer of Seattle, Occidental Brewing and Steeplejack Brewing of Portland, pFriem Family Brewers of Hood River, Block 15 of Corvallis, 54º40´ Brewing of Washougal, Wash., Sunriver Brewing of Sunriver and Figueroa Mountain Brewing of Buellton, Calif.
   We here at ABZ were looking out for you, sampling every lager available. You're welcome!
   Here are some of our favorites:
Oak-Lagered Czech Dark (Buoy) – Yes, there are dark lagers. This one is inky dark with a creamy head but still crisp with a dry finish. Made with three German malts and aged six months in oak barrels. 5.4% ABV.
Lager (pFriem) – What's up with the lack of a fun name? No matter. This German-style lager is close to perfection. Well-balanced and refreshing. 5.0% ABV.
Beach Eagle (Fort George) – Think Corona, only better. This pale Mexican lager is light in hops yet packing lots of flavor with subtle floral notes. 4.7% ABV.
Tenacity (Sisu) – This red lager is smooth and well-balanced. Crisp, with a hint of caramel. 5.5% ABV.
Pharoah's Horses (Obelisk) – This German-style lager combines malts for a balanced, full-bodied taste. Crisp and easy drinking at 4.5% ABV.
Unfiltered Pilsner (Astoria) – In a land of clear, pale lagers, this hazy gem stands out. Golden and refreshing, it boasts the brewery's "longest production time." 4.9% ABV.
   All of the above beers are available locally, on tap or in cans, for a limited time.
   But, hey, pace yourself. 
   Fort George's Lupulin Ecstasy Festival, featuring more IPAs than you can imagine in your most pleasant dreams, will be held Saturday, May 20 on the grounds of the historic Flavel House in downtown Astoria.