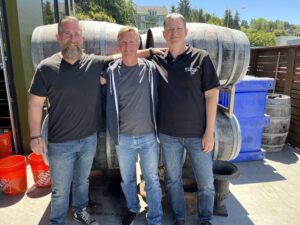 One look at Jonathan Elliott's face as he describes the ongoing experiment that is craft brewing – breathlessly rattling off exotic ingredients and fermentation tricks – and you know.
You know this man will succeed. He'll open a brewery, and it will be in Warrenton, where he was raised and graduated from high school, Class of 1998.
"Oh, man," he says, envisioning that day. "It'd be a dream come true for me."
On June 6, Elliott and his partners took a giant step toward achieving that long-awaited goal.
City commissioners, after huddling behind closed doors, voted to grant Battery 245 Brewing a five-year lease for a city-owned building at Warrenton Marina, officials said.
The move was a stunning reversal, because just two weeks earlier the commission had awarded the lease to a performing arts school.
It had been the third straight setback for Elliott, whose quest had been stymied previously by a partnership dispute and a downtown building with serious hidden flaws.
"I just stayed positive and kept brewing," says Elliott, who's been home-brewing for 13 years while tending bar and selling real estate on the side.
Now, barring any more unforeseen setbacks, Warrenton will finally have its first brewery. The city plans to make improvements to the exterior of the building, located alongside the marina on East Harbor Drive. Renovating the interior is the brewery's responsibility.
The night after getting the green light, Elliott couldn't help but smile, excited by the possibilities. Topping the list is the chance to have fun with a planned 5-barrel brewing system, sharing his diverse offerings from behind a bar for the first time. Cinnamon Crunch Blueberry Sour anyone? Double IPA?
"I'd love to give back to the community as much as I can," he says of his hometown. "I have so much support. People say, 'Hurry up and get open, we're tired of going to Astoria for beer.'"
Getting to this point wasn't easy. More like torturous.
Elliott's first attempt at a downtown site dissolved before it could get off the ground, due to a disagreement among partners about what their first-year focus should be. Elliott wanted to grow slowly, starting with a cozy taproom. One partner wanted to dive immediately into canning and distribution.
The second bid went further. Elliott and Eric Lane, a friend and fellow Warrenton High grad, signed a lease for a chunk of a Main Street building that had once housed the Fenton Grocery.
The century-old space needed work, but when the remodeling began the partners quickly realized that there were too many major structural flaws, including inadequate or missing support beams for the apartments above.
"We started uncovering more and more problems with the structure of that building," Elliott recalls.
They had to walk away and regroup. Then Lane decided to move out of the area. Another setback.
But there was also a stroke of good luck. It just so happened that Jeff Kilday and Michael Ljungberg had been planning a brewery of their own, in nearby Seaside. When a potential deal unraveled, they shifted their attention to Elliott and his Warrenton dream.
"Warrenton just made sense," Ljungberg says. "There's no brewery, and it's a fast-growing town."
The proposed brewery already had a name: a tribute to the World War II artillery bunker erected to guard the mouth of the Columbia from invaders that is a popular attraction at Fort Stevens.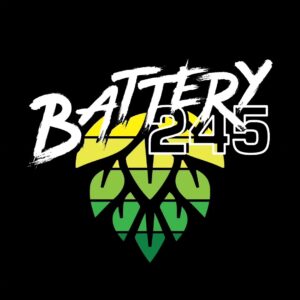 Each of the partners also had roots in business and craft beer: Elliott, with his home brewing and ongoing collaborations with breweries; Ljungberg, whose professional brewing credentials include a few years at Seaside Brewing; and Kilday, who dabbled in home brewing and owns the Wine & Beer Haus in Seaside, a major bottle shop.
Together, they began eyeing properties in Warrenton. The biggest prize was the building that had once housed Skipanon Marine and RV Supply, newly acquired by the city.
Battery 245 became one of five bidders for the space, competing with the school, a seafood market and auto repair shops. Most observers figured the brewery made the most sense, due to its drawing power, but on May 23 commissioners went with the school, with the brewery dubbed the runner-up.
Elliott was stunned. He'd just smacked into another brick wall.
The trio consoled one another, vowing to keep trying. Before they could move on to another site, however, they got a call from City Hall. There was a problem with the commercial zoning of the marina building that complicated permitting the school, prompting the owner to withdraw.
"It was a relief," Ljungberg says. "Jon was beaming."
So now the brewery plan is moving forward. For the first time, there is wind in the sails.
The remodel will take about six months, the partners say, somewhat optimistically. Plans call for a brewpub with food and a dozen taps, a tasting room and full bar, plus a deck off the water.
Maybe even some Astorians will cross the bridge to check it out.