* UPDATE *
  Breakside Brewery opened its downtown Astoria brewpub at noon on Friday, with a little help from its friends.
   The pub had just passed a final city health inspection and Breakside's Dan Brownhill was eager to roll up the garage doors for the Memorial Day weekend. The problem: He had no chairs or barstools. The delivery had been delayed until Tuesday.
   So Brownhill appealed to Fort George Brewery and Buoy Beer and they came through, quickly rounding up enough chairs and stools for the soft launch.
   The pub will be open noon to 11 p.m. Thursday through Monday to start. Brownhill said he hopes to operate seven days a week before the end of June.
***
   The friendly folks at Portland's Breakside Brewery have got this whole conversion thing down.
   When they snatched up the vacant former Astoria Co-op building last winter, turning the downtown space into a brewpub by summer seemed highly ambitious. 
   But here it is, a few days before the Memorial Day weekend, and Breakside's fifth brewpub is about to open. With 16 beer taps, plus wine, champagne, a full bar and a seafood-focused menu that includes crab rolls and oysters on the half shell!
   Breakside saw charm in the old grocery store building on Exchange Street, with its soaring ceilings, pair of large skylights, massive central steel beam and enough exposed ductwork to give the space an industrial chic. They polished the concrete floors, built a huge wrap-around bar, expanded the kitchen and added a couple of bathrooms.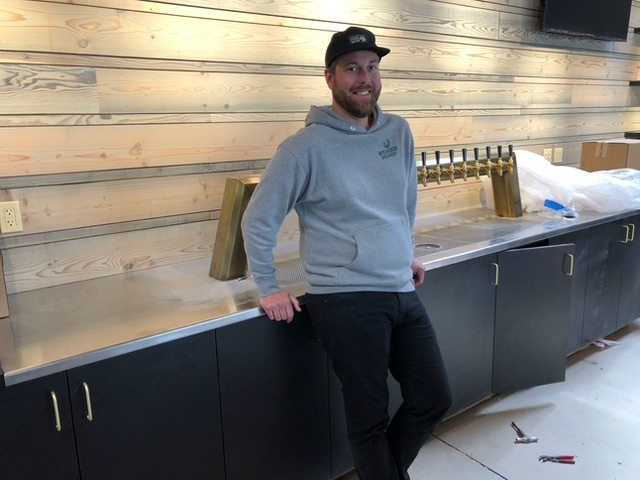 But the best change may have been to the dated, shopping center-like façade. They ripped it out and put in a couple of roll-up garage doors, similar to what their neighbor Reach Break Brewing uses when the weather allows.
  "We wanted to create a fun, laid-back, easy-going spot," says Dan Brownhill, who oversees Breakside's brewpubs and taprooms. 
   His favorite feature of the Astoria pub? The wood lining the front of the bar and the wall behind it. The planks were milled locally from reclaimed pilings at a nearby Columbia River pier.
    When Breakside decided to open in Astoria's emerging beer zone, they were welcomed by local breweries, including founder/brewer Josh Allison at Reach Break. He thinks they'll draw even more beer-minded tourists and that will help, not hurt, his business.
   But there were private murmurs questioning the logic of Breakside's move. Did they not know that Astoria only has 10,000 people and already has six breweries? Why didn't they pick a more populated spot that would be a sure thing?
   Brownhill smiles when asked the question.
   "We love this town," he says. "We love the vibe. We really do choose where we want to open based on where we think we'll have a lot of fun. We just want to be a part of this already amazing beer community."
   Breakside, it should be noted, isn't one of Oregon's older craft breweries. It was founded in 2010 as a pub brewery in northeast Portland, and quickly forged a reputation for making outstanding beer. Employee-owned, Breakside has won Brewery of the Year honors four years in a row at the Oregon Beer Awards.
   Today, Breakside produces some 30,000 barrels a year (similar to Fort George) and has expanded its distribution beyond the Northwest to Hawaii, Canada and Japan. The brewery offers an amazing array of beers – from a variety of notable IPAs to thirst-quenching pilsners, fruity sours and barrel-aged stouts. 
   More than enough to fill its taps in Astoria.